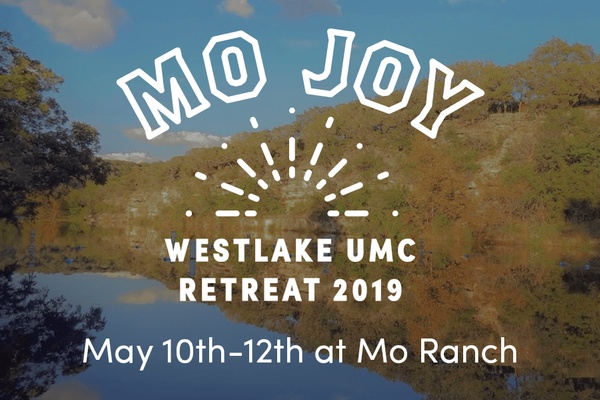 All Church Retreat
May 10, 2019 - May 12, 2019
Three years ago, my family had no business signing up for a weekend vacation. We had twin three-year-olds, and a four-yr-old who all had stopped napping at two. Our house was a mess, we had missed the first tax filing deadline, and we had more weeds than grass in our yard. But there was just something about the sound of Mo-Ranch that sparked my curiosity, so I signed the Setaro family up. I was super excited, but James was a bit skeptical about spending the weekend at church. We fought the entire drive there. We were STRESSED OUT!
The moment we turned into Mo-Ranch, life stopped. It was like this little angel came down and made all my worries and stresses disappear. My body went from clenched to this light sense of calm. Mo-Ranch is gorgeous. Every direction you look, God is there. That weekend was honestly one of the best weekends of my entire life. We really played together as a family. We fished, we swam, we made Smore's by the campfire, we made memories.
A few months ago, our Sunday School class got into a discussion about how important it is to go on vacation. YES! I learned at church, that to bond as a family, we must go on vacation. And really, this makes so much sense! So many happy memories from my childhood happened on vacation. So this is my invitation to you!
Join us at Mo-Ranch! Friday night, we'll eat dinner together and sing around the campfire. Saturday morning, after breakfast we will PLAY! The choices to fill up your day include canoeing, fishing, flying down the 38' water slide, pool time, hiking, children's playground, kickball, ping pong, ropes course, prayer tank and labyrinth. Inside activities include puzzles, board and card games, arts and crafts, reading, and napping..
Delicious, healthy meals are provided and served family style. Sharing meals, there is a genuine feeling of community created. A detailed schedule will be emailed later in the year to those who have registered. We will also be reaching out soon with ways you can help this be a success. Memories will also be made as you sign up to grocery shop, cook ahead with your church family, lead a game of charades before family movie night, or bring your favorite Pinterest craft to lead after lunch one day.
We have contracted with Mo Ranch for a specific number of spaces and in the past we have filled up quickly. Sign ups are open now to be with us May 10-12.
Megan Setaro, Retreat Chair
Online Payment
You can use the link below to pay online after filling out the PDF registration form.
Click below for a fillable PDF registration form.