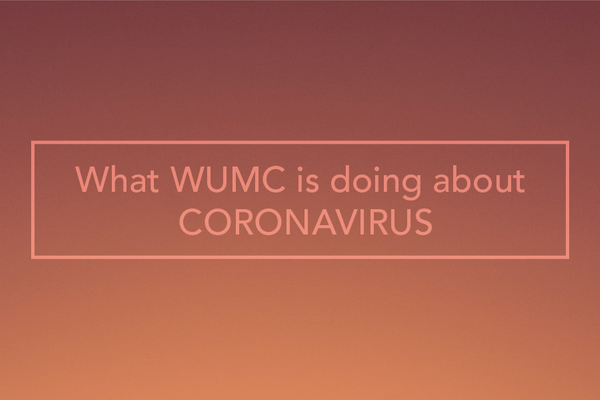 Coronavirus
These are uncertain times and I don't know about y'all, but this is completely uncharted territory for me. I'm so grateful for your gracious spirits, for strong leaders among our staff and laity and for the gift of the Holy Spirit working in our midst to help as we navigate this path.
On behalf of me and both our current and incoming Church Council chairs; Jim Burke and Ellen Balthazar, respectively. We want you to know that I and your church leadership continue to closely monitor the latest information related to the Coronavirus which, as you all know, is coming at us fast and furiously. The current wisdom points to proceeding with an abundance of caution in a collective effort to "flatten the curve" on the spread of the virus. The hope is that if we take appropriate precautions, including and especially limiting face to face interaction, the number of those infected at any one time will not outpace the limits of our hospitals and health professionals. I, for one, am resoundingly in favor of that. Your health and well-being are extremely important to me!
So, guided by this wisdom, Westlake United Methodist Church will move to "virtual" interaction and suspend all in-person church activities and meetings effective immediately. This includes all Sunday morning classes and worship services.
Our worship and programming staff are, at this very moment, (really…right now) plotting and planning and creating…all in an effort to provide deeply meaningful online worship experiences both this Sunday and next that will keep us connected to each other and God. And you can wear your jammies!
We have one online worship service at 11:15am. It is super-easy to participate. Just click here. At 11:15am on each Sunday the livestream will begin. If you miss it, you can still click this link and, once the landing page loads, click on the archived service in the right-hand column to watch anytime. There will be two buttons on the top left-hand side of the screen. The top one will say, "Register Your Attendance" and the second will say, "Give Now" so that you can easily tell us who all is worshiping with us and submit your offering online.
These will be interactive worship services. Here's what you need to have handy to be prepared:
An unlit candle
Matches or a Lighter
Bible
Paper
Writing utensil
Coloring pages & colors for the kiddos (adults can color too!)
While our church facility is not being used for in-person gatherings, our amazing custodial staff will be working hard to deep clean and sanitize our campus in preparation for our return to in-person community. While we are on hiatus, I recommend that small groups find ways to remain connected through the use of email, video chatting, social media groups, text groups or the old-fashioned telephone call…these days you can conference as many as you like on the line! If you aren't sure how to utilize any of these methods, reach out. We can hook you up with one of our youth or young adults who can walk you through the process!
Let us be in prayer for one another and the world as we all navigate this uncharted territory together. And please reach out to me or the church if you have a pastoral care need or just need to chat. My email is tbeadle@westlake-umc.org. You can also call the church office during our normal business hours at 512-327-1335. If you have a pastoral care emergency after hours you can call 512-710-8650. And you can submit prayer requests by emailing office@Westlake-umc.org.
We will continue to monitor the situation and will provide an update toward the end of next week to let you know how the church will respond to whatever the situation may be at that time.
I look forward to worshiping with you all online Sunday at 11:15am!
The Lord be with you all!
Pastor Tracey
Jim Burke- Church Council Chair
Ellen Balthazar- Incoming Church Council Chair