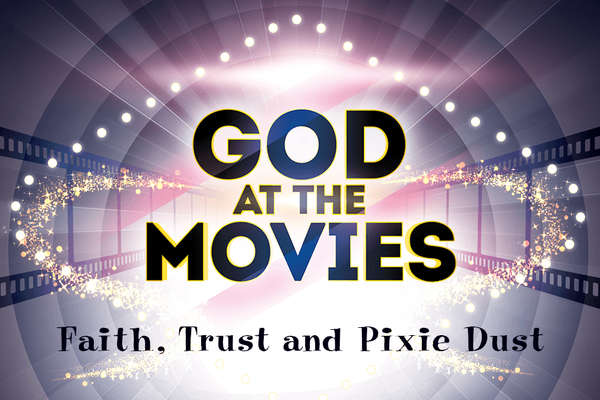 God at the Movies Series
CLICK HERE FOR ONLINE WORSHIP SERVICES
It's back! Our God at the Movies series is returning this summer and this year's theme is "Faith, Trust and Pixie Dust." We love this series because it reflects a greater spiritual exercise. We believe that God is always speaking and if we're listening we can hear and learn new things in all that we do, even in the movies we watch. In this series we will explore spiritual truths in contemporary films, which all happen to be Disney films: The Lion King (original), Frozen, Coco, and Tinkerbell.
Typically, we'd come together each Friday night to watch the movie we would explore on the Sunday. However, the number of confirmed coronavirus cases continues to rise in our county, so it isn't feasible or safe for us to come together to view the movies together in-person. So we are inviting you to watch a movie at home each week prior to the Sunday worship service:
The Lion King (original) before July 19
Frozen before July 26
Coco before August 2
Tinkerbell before August 9.
We're going to have some fun with this. We invite you to share some of your movie-watching highlights on social media each week (ex. What snacks are you eating? Who dressed in character? Who laughed the most? Who cried? What was the most quotable line? Who sang the loudest?). In fact, tag Westlake UMC in your posts and use the hashtags #movienight, #godatthemovies, and #westlakeumc. And if you're feeling adventurous, you could do a watch party with another person or family on Disney+ or even have a socially-distanced backyard movie night with a person or family from your neighborhood.
We'll provide an electronic activity packet each week that will include things like craft ideas, drawing pages, movie trailers, movie trivia/quiz challenges, and recipes. (But if you can't wait, you can link to all the activity packets here.) Plus, we'll have a special challenge each week with awarded prizes. There will be a special event for each week's challenge on our Westlake UMC Facebook page.
This is going to be a lot of fun. It's almost too much fun not to share. Would you consider sharing an invite to this series with a friend? We'll make it easy with shareable events on Facebook and a sharp-looking email that you can re-send. Let's grow together in faith and trust and we'll even throw in a little pixie dust. We'll see you on Sunday, July 19 for the start of God at the Movies.