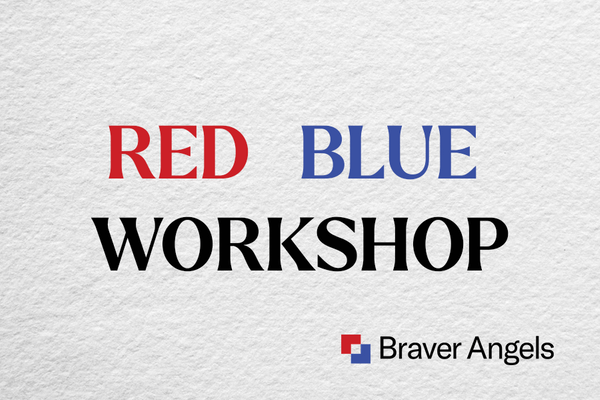 Red and Blue Workshop
September 24, 2023 11:15am
Sunday, September 24th, 11:15am – 2:30pm, in the church gymnasium
Hosted by Braver Angels and the Return Group
Childcare and Lunch will be provided free of charge.
In April, the "Return Team" and Braver Angels presented a church wide workshop called "Depolarizing Within" in which we examined our attitudes toward people and groups with whom we disagree and learned strategies for disagreeing without condemning or ridiculing others.
In our faith community's ongoing work to bridge differences of opinion in compassionate and inclusive ways, we have an opportunity to go deeper and put our skills into practice.
Join us for a "Red-Blue Workshop"!
The "Red-Blue Workshop" brings together a small, evenly divided group of 6-8 conservatives and liberals, or "reds" and "blues," for a series of exercises designed to help participants clarify disagreements, reduce stereotyped thinking, and discover common values. When you register, you can choose to be an active participant (be one of the "reds" or "blues") or to be an observer that gets to watch and reflect on the conversation as it unfolds. Either way, we will learn from each other while practicing communication skills that help us overcome silent separation and gain a deeper understanding of those with different perspectives.
There is no cost, but registration will be required for lunch planning. Childcare will be available for children through elementary school, and middle schoolers will have activities. High school students are invited to join the adult session in the gym as observers. Community members are welcome and encouraged to attend.