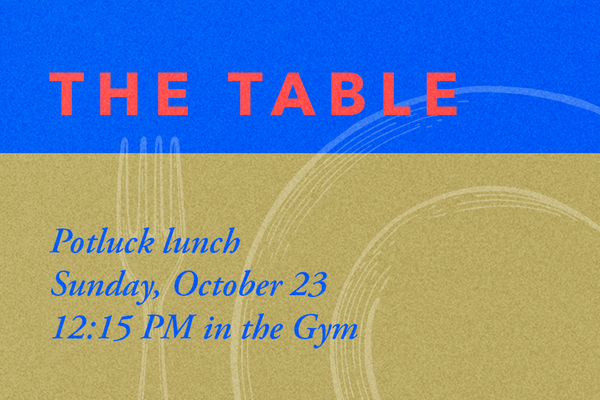 The Table - Potluck Lunch
October 23, 2022 12:30am
About ten years ago, WUMC had a program called Tables of Eight. Most of these gatherings occurred in homes and participants brought friends, children, significant others to share the fellowship of a potluck meal. As time went by, some groups disbanded due to relocations and the growing pains of different seasons or stages of life. I attended several WUMC Tables of Eight with couples and families in homes and at local restaurants. These intimate groups allowed me to get to know other people outside of the church doors.
The global pandemic made it more difficult to be together in person, and we recognize how important it is to have face-to-face encounters with one another, especially while breaking bread. That is why we are inviting you to come to The Table 2022 to help connect us with one another. We will share a potluck lunch with all of you on Sunday, October 23 at 12:15 PM in the WUMC Gym. Please consider bringing co-workers, neighbors, friends and family to this event.
Everyone is invited…and while we are gathered, you will have an opportunity to sign up to meet again in a small group and share another meal. Your Table Group can meet in homes, at restaurants or even at the church.
FAQs for This Event
What is this? An opportunity to gather in small groups and engage with new people from all seasons of life. This is not a Bible Study.
Is this a couples or family thing? Absolutely not…all are invited to come to The Table.
Why would I want to be involved? I'd like to invite my co-workers and neighbors to a meal to get to know them better. I'd like to meet other people in the church.
Do I have to sign up to meet again? No, please come to The Table on October 23…no strings attached!
How often would the subsequent Table Groups meet? This is up to your group. We'll provide email addresses for everyone to set their own schedules.
I'd love to answer any questions you might have about this event. Email me, Melanie Walters, at melanie.walters@austinisd.org.