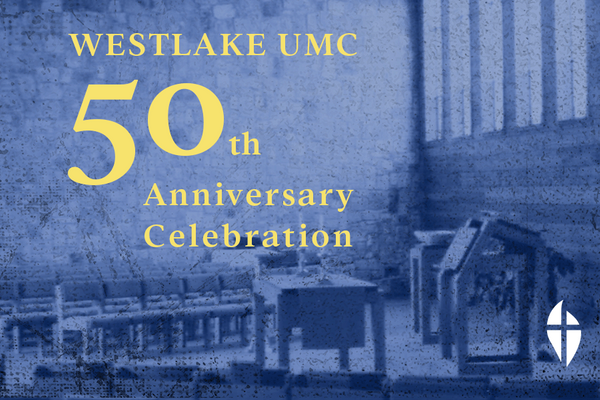 WUMC 50th Anniversary Celebration
June 4, 2023
RSVP for the celebration HERE!
Westlake United Methodist Church is reaching a monumental milestone - it's turning FIFTY! We are thrilled to invite you to join us in commemorating this momentous occasion on Sunday, June 4th.
We will host a unified worship service at 11:00 AM in the Worship Center, which will be immediately followed by a luncheon program in the Church Gym, at approximately 12:15.
Let's come together as a community to honor the rich heritage of Westlake United Methodist Church and make this 50th birthday celebration a day to remember. Save the date and sign up to be a part of this joyous occasion.
As we gear up for this special day, we are calling on our dedicated members and friends to contribute their creative ideas and lend a hand in making this anniversary celebration truly spectacular. Whether you have a knack for event planning, decorating, organizing, or simply want to pitch in and help out, we welcome your talents and support. Click on the link provided to sign up and become part of our team. Your participation and enthusiasm will undoubtedly make this milestone even more memorable, and we can't wait to celebrate with you!