Please Email us @ youth@westlake-umc.org to be added to a waitlist for MidWinter Retreat 2020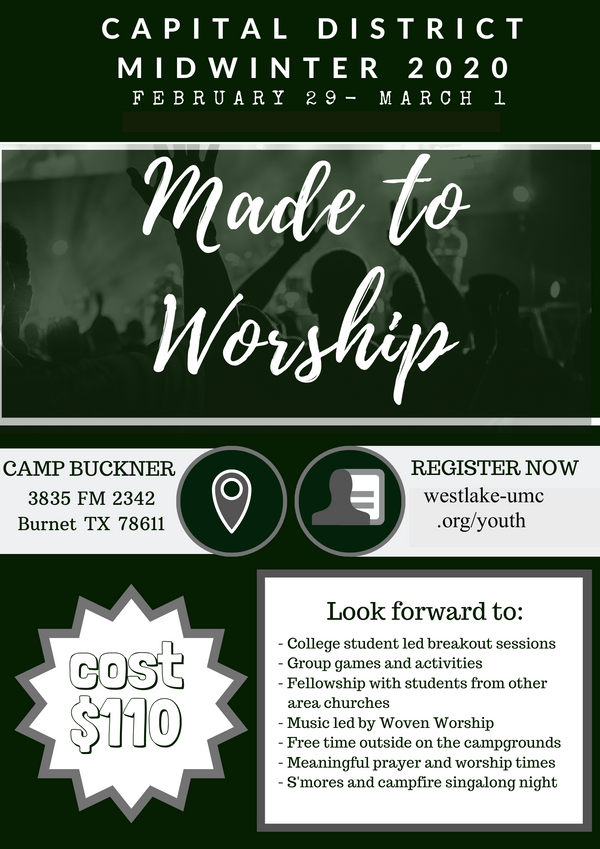 MidWinter Registration for 2020 is at capacity. We have started a waitlist incase a spot opens up! We are so sorry if you wanted to join us and were not able to sign up before we hit capacity. Other upcoming fun events to look forward to is our Lock Out on May 29-30 and or Summer Mission Trips! We hope you join us on those!
The Capital District of the United Methodist Church is putting on a great overnight retreat for all 6 through 12 graders!
All 6th grade through 12th grade and any friends are invited! The retreat is Saturday, February 29 - Sunday, March 1 at Camp Buckner in Burnet. We will be traveling together from Westlake UMC Saturday morning leaving at 9am and will return Sunday evening at 5:30pm. The cost is $110. Checks made out to WUMC with midwinter in the memo line.
We look forward to:
Fun together within our group with games and activities
Fellowship with students from other area churches
Free time outside on the campgrounds
College student led breakout sessions
Music led by Woven Worship
Meaningful prayer and worship times
Packing List:
Casual clothes (check the weather for how warm/cold and jackets!)
Outdoor walking shoes
Pajamas
Toiletries including towel
Twin sheets/sleeping bag and pillow
Bible, Notebook, Pen
Reusable Water Bottle
Bring the 3 forms below filled out, give to youth ministries director Diane Kofahl before leaving parking lot!