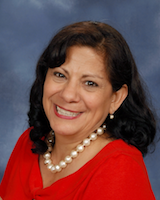 Dr. Diana Sanchez-Bushong
Worship & Music Director
I grew up in San Antonio, Texas where I attended Browning Methodist Church since the age of 3. I am a graduate of the University of Texas where I earned a Bachelor of Music degree in Music Education. In 1984 I enrolled in the Sacred Music Program at Perkins School of Theology and in 1986 received a Master of Sacred Music and a Master of Music in Conducting studying with Lloyd Pfautsch.
In June 1986 I became the Director of Church Music Resources at the General Board of Discipleship, Section on Worship. I was a staff consultant to the Hymnal Revision Committee and later to the Book of Worship. I held that position for 7 years before returning to Texas. In 1993 I returned to the University of Texas to work on a doctorate in choral conducting. I earned a Doctor of Musical Arts in Choral Conducting in 1998.
I am currently the Director of Worship and Music at Westlake United Methodist Church in Austin, Texas. I oversee 11 musical groups and help develop the weekly worship services. I also serve on the Annual Conference Music and Worship committee which plans Annual Conference worship each year. I also serve as the Music Area Coordinator for The Fellowship of United Methodists in Music and Worship Arts, a national organization that supports music and arts in the church.
I have two daughters Monica Grace and Emma Joy. My husband is Tim Bushong and he writes music for advertising as well as choral music.