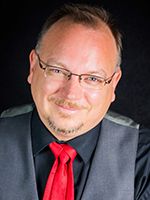 Gus Sterneman
Associate Director of Music/Director of Handbell Ministries
As Associate Music Director/Director of Handbell Ministries at Westlake United Methodist Church, I oversee all aspects of the handbell program (up to 5 ensembles), sing baritone in the Chancel Choir, conduct and arrange music for larger ensembles for holiday services, teach ukulele, and serve as co-host for the annual That's Amore variety show fundraiser. I also fill in wherever else I'm needed in the music ministries here at Westlake, whether leading the congregational hymn sing or grabbing my guitar to sit in with the praise band.
I returned to Austin in 2014 from Phoenix, Arizona after having been gone for 7 years (I came back to get away from the heat, traffic, and crazy politics—no, really). During my time away, I completed my Master's degree at Butler University in Indianapolis with a double major in Conducting and Music History and my Doctorate in Opera and Musical Theatre Conducting at Arizona State University.
In addition to my work at Westlake UMC, I serve as Music Director with the Heart of Texas Chorus in San Marcos and as Assistant Conductor with the Austin Civic Orchestra. I have also worked extensively in theatrical sound design, including productions with ASU's Lyric Opera Theatre, The Phoenix Theatre, and locally with One Ounce Opera.
I spend my free time playing table-top games, painting miniatures, and Making things with my wife and teaching my two children the finer points of musical theatre. I will happily discuss the minutia of coffee and beer with anyone (terroir!).