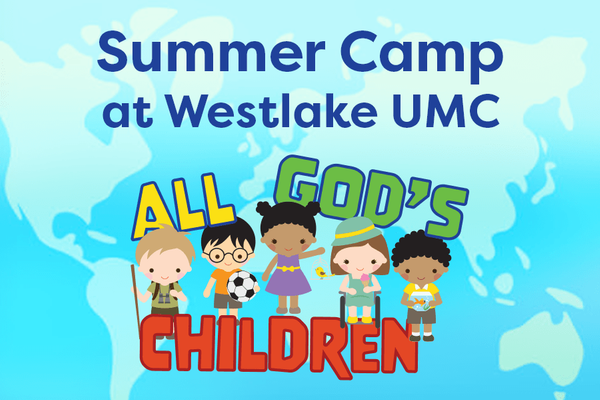 Summer Camp!
Summer Camp News
Summer Camp registration has now reached available capacity! We have gotten a great response from both church members and the community, and would love to be able to accept more students! HOWEVER, we need more hands to make this happen! We still have many available volunteer positions, including an adult Games Leader, an adult Kitchen Helper, several adult Small Group Leaders, an adult story-teller, and youth to help in any area. All materials and information will be provided, we just need willing hands and hearts! Contact Kellie Brewer today, so we can welcome more children to Summer Camp at Westlake UMC.
WUMC Summer Camp! Registration is now open! All God's Children is a celebration of how each of us is uniquely created and beautiful in our own way. We will learn about and appreciate our similarities and differences, always remembering that we are All God's Children.
Register using the fillable PDF form below and send to kbrewer@westlake-umc.org
Cost information can be calculated in the PDF. You can submit payment by check at the church office or you can click on the button below to pay online.
We have a WONDERFUL opportunity to see our Summer Camp program grow this year by inviting families from nearby neighborhoods to participate. BUT we need your help to make it happen! We will need extra adult and youth volunteers to help with everything from games to crafts to preparatory work and more!! We have a place for you! Contact Kellie Brewer or Ronny Betts.