The Permanent Endowment Fund
Planning a Future With Hope
"For surely I know the plans I have for you, says the Lord, plans for your welfare... to give you a future with hope."
-Jeremiah 29:11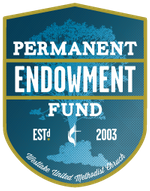 The Permanent Endowment Fund and Its Purpose
The WUMC Permanent Endowment Fund (PEF) was established in 2003 to provide the opportunity to make enduring charitable gifts to the Westlake United Methodist Church. The Fund is the means through which gifts will become a living memorial and a perpetual source of financial support to benefit the church and its programs. It is the vehicle for receiving and managing gifts that look to the future, and it enhances the ability of the church to promote its ministries and care for its property.
Adding a codicil to your will
Adding a codicil to your will is a great way to include the church in your planned giving. A sample codicil form is provided below.
Uses of the Fund
Only the income generated by the corpus of the Fund will be distributed for use by the church. These distributions will be used to support programs and needs not normally included in the church's operating budget. Contributions can be designated or undesignated for specific purposes by the donor.
Giving
All gifts to the PEF are permanent, thus ensuring that the benefits produced by such gifts are also permanent. Gifts can take many forms, including cash, stocks, bonds, life insurance, real estate and other types of deferred gifts. Through wills or current giving programs, interested contributors can help build Fund assets, thus leaving a living legacy to WUMC and its ministries. All gifts, no matter what the size, are important to the Fund and the long-term foundation of WUMC. One easy way to give is through memorials or gifts in celebration of some event, such as a birthday, graduation or anniversary.
Management of the Fund
The Endowment Fund is managed by the Endowment Fund Committee, consisting of nine members. This committee will strictly comply with Endowment Fund Guidelines and will work closely with investment counselors and other advisors to assist in the professional management and investment of the Fund.
How to Learn More
If you are interested in learning more about the Fund, how it operates, and how to contribute, please contact any member of the Endowment Fund Committee and/or attend one of the periodically scheduled informational presentations discussing the Fund. In addition, if needed, Committee members are available to meet with you and your financial advisor to help plan enduring gifts to the Fund.