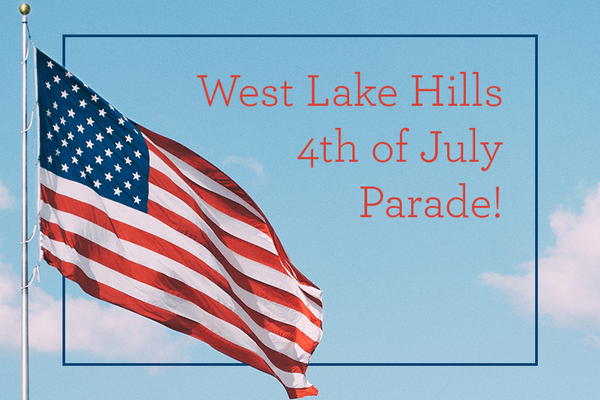 4th of July Parade
The 2021 Westlake Hills 4th of July Parade is Back!
We have a wonderful opportunity to share our church with our Westlake community on Sunday, July 4th in the City of Westlake Hills Independence Day parade. If you're available we'd love to have you join our parade crew by walking with our "float." The route is less than a mile so it's not a strenuous walk. If you have a red Westlake UMC t-shirt, we encourage you to wear that. You can park in the shopping center lot outside of Texas Honey Ham, Wells Fargo and Walgreens. Arrive at 8:00am at the Independent Bank parking lot at 101 Westlake Drive. At 8:30am the parade will proceed from the bank parking lot and head north on Westlake Drive, make the first right, and head back down on Reveille Road, concluding in the bank parking lot.
There will be NO 9:00am worship service on Sunday, July 4th. And there will be no special Sunday School programming for adults or children. But because the parade begins at 8:30am, there will be time to walk in the parade, go home and shower and make it back to WUMC, because we WILL have an 11:15am worship service on Sunday, July 4th. If you have questions or want to let us know that you'll be walking with the WUMC parade crew, please contact Curt Davis at cdavis@westlake-umc.org. We look forward to seeing you at the parade!