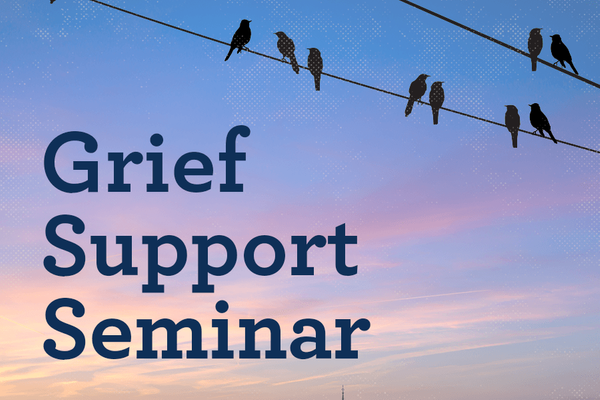 Grief Support Seminar
"When someone dies, you don't get over your grief by FORGETTING, you get through your grief by REMEMBERING." (Author unknown.)
We offer you, family members, neighbors, friends, a time of Hope and Healing, a Grief Support Seminar. This is a six-week seminar dealing with the issues surrounding loss. Maybe the loss of a loved one, of a life changing event that brought loss, or of other loss markers in our lives. (This pandemic year has been experiences of many forms of loss.) During the sessions, we will explore various coping skills and ways to help one grow through this experience into a level of wholeness.
Sessions will start Tuesday, Feb. 2, 7:00 pm. You may attend one, some or all the sessions. There will be 1 class session per week. Tuesdays, 7:00-8:15 pm. All sessions will be by Zoom, virtual, not in person, due to the pandemic.
This seminar is workbook based, with a $20.00 charge for materials. It is open to church members, guests, and the larger community. (Payable to WUMC, or you may ask for a scholarship of the workbook price, through Pastor Tracey. tbeadle@westlake-umc.org) Sessions will be facilitated by Rev. Tracey Beadle, Rev. Curt Davis, Rachel Schwarzendruber, & Mary Lou Batlan.
Session days: Feb. 2, Feb. 9, Feb. 16, Feb. 23, Mar. 2, Mar. 9.
Join Zoom Meeting
Meeting ID: 874 0397 9348
Passcode: 089572
Use the form below to register.
Questions: Mary Lou Batlan, 512-263-4177 mlbatlan@gmail.com
Please mail check to Westlake United Methodist Church, 1460 Redbud Trail, Austin, TX 78746.
We will need your mailing address, if you know I don't have it through the church database, as I will mail the workbooks to participants before Feb. 2. Or I can leave them at WUMC for pick up. Let me know, and I have a way for that to happen without contact with other people.