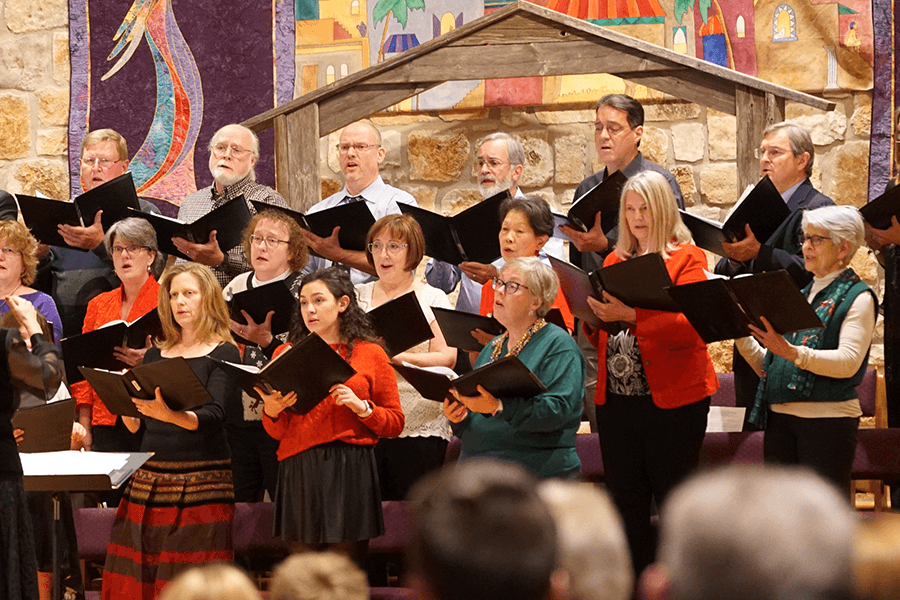 Seasonal Singing
Please consider joining our amazing WUMC Choir for our upcoming Lessons and Carols program! The Cantata we will be presenting is absolutely gorgeous, accessible, and will be accompanied by percussion and woodwinds as well as organ. It is thematically linked to Pastor Tracey's series for Advent, and promises to be a powerful and inspiring musical offering.
The official "reveal" of the cantata will take place on Saturday, October 19 at our fabulous Choir Retreat at the home of Dixie and John Paulos, from 9 AM- 12 Noon (it is a potluck, and gets you home in plenty of time for the game!!).
Our regular choir rehearsals are on Wednesday evenings from 7-8:30 PM in the Music Room. The Lessons and Carols will be presented on Sunday, December 15 at both services.
Please contact our Director of Music and Worship, Nina Revering if you would like more information about any of the Adult, Youth or Children's Choirs below. Don't be shy, we would love for you to come sing with us!
Chancel Choir
Under the direction of Dr. Diana Sanchez-Bushong, the Chancel Choir choir provides music leadership for the 11:15 am service blending a variety of styles and musical forms. Short-term choir members are encouraged to join us for Christmas and Easter and other special events. Rehearsals are typically Wednesdays 7:00-8:30pm in the Music Room. No experience is necessary.
Youth Fuego Choir
The Youth Fuego vocal ensemble (6th - 12th grades) sings in worship once a month and joins the adult choir for larger works and other productions.
Rehearsals are after the 11:15 service from 12:30-1:15 PM each Sunday.
Junior Choir
Kinder -5TH GRADE
The Junior Choir sings once a month in worship and meets to rehearse after Children's Time during the 9 AM service, until 10 AM (Ms. Nina escorts the kids to Coffee Time after choir practice).